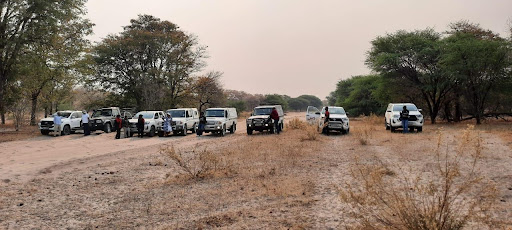 Halfway Ngami Botswana
Cruiser country like no other, that's what we experienced first-hand late last year in Botswana.
Halfway, having its busy dealership in Maun which is situated in the northern parts of the country and right on the edge of the world renowned Okavango Delta. Botswana is a large and mostly flat country that consists almost entirely of soft Kalahari sands and typical Kalahari Desert vegetation. The delta area is fed by large rivers coming down from central Angola which floods the delta annually over a few months.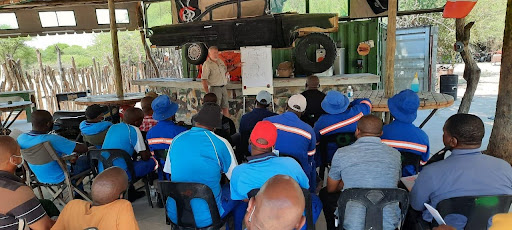 It makes good sense then that the need for tough reliable 4x4 vehicles is not a luxury but rather a necessity, for tourism, residents and government departments alike. This is where Halfway Ngami Botswana comes in.
The offer to train their Government Departments drivers in the correct use of their 4x4s was snapped up very quickly. Richard had the task of finding a suitable location and then once the site was decided upon, a 4x4 training track need to be constructed. This was all done in good time and the dates for the first training session was soon set for two weeks in September, running from Monday through to Friday, and 07h 30 until all the activities were completed each day. The facilities at the training ground were good, it was at a local businessman's motorsport centre and had everything we needed, braai facilities for braaing the lunch break meals and an open air but sheltered lecture area. The best of all was the road getting there, in true Botswana desert terrain we had to negotiate a soft sandy track of 28kilometes to get there. This on occasions turned out to be a good training venue for vehicle recoveries to take place, never by choice though. We used our winches and snatch straps to recover both locals and of course our trainees for the day. Richard and I soon learnt that we should rather deflate all the vehicles tyres before driving out from the dealership each morning. The recovery exercises went down very well but unfortunately, they were also time consuming.
We often took Africa Time to new levels in Maun, our 07h30 scheduled arrival by the trainees for the day would more often than not be stretched out to 09h00 and a few times beyond, so good timing became a priority. Besides this, the afternoon temperatures were mostly in the upper thirties to the lower forties. On one occasion, a new heat record was set in Maun when the mercury reached 44,5 deg.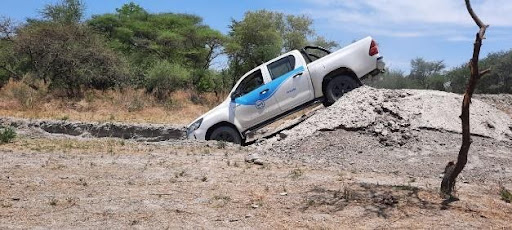 The training proved to be very popular by all concerned, beginning with tyre pressures, and engaging 4 high and 4 low ratios at the correct speeds and as and when necessary. The obstacle course was a favourite by most where we put the mostly Cruises through their pace, getting the vehicles to all sorts of angles with wheels up in the air at the same time. 4x4ing is all about vehicle control, and that's what we were teaching them, and I must say, they embraced the training that Halfway was providing them with and were eager learners, making things so much easier for Richard and I
After completion of the first two week stretch and by popular demand, Richard set the dates for another 2 weeks in October. Also, by popular demand, our lunch braai time menu was changed to better suit local customs. We went from pap, wors and chakalaka with bread rolls to steak, pap and chakalaka. After eating steak for 5 days in a row, Richard and I changed our Friday night braai to chicken legs and lots of salad.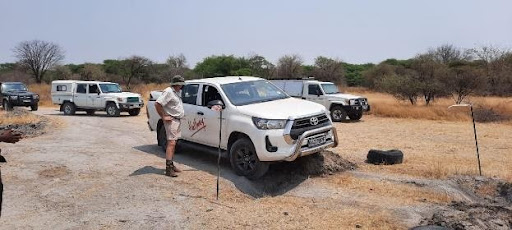 The October course went off really well where we trained in the region of 150 drivers which included management from the various different districts.
The vehicles which we had on the courses were almost all Land Cruisers and the others made up of the Hilux with a single Prado.
The courses were good for our Halfway brand in Botswana and certainly the first time that they had ever been offered something like this. Hopefully, it will lead to better, safer and more sensible off road driving practices and by doing that hopefully bring down their running and maintenance costs to their vehicles.
2022 is another year and I'm almost certain, that by popular demand, we will be back in action again rather sooner than later.