News > Three Provinces trip review by Gerald O'Brien - 27th - 30th April 2018
Three provinces is a venue tucked away in the hills just outside Volksrust on a large farm. The camp site is a big one with in the region of 42 camp sites and lost of room for privacy. There are clean flushing toilets throughout the campsite with showers and a donkey boiler. There are no electrical points, but that's why we have solar panels. The camp is situated high up in the hills at around 2000 meters and at this time of the year, it meant cool to freezing evenings and night time temperatures whilst the days were pleasant and we could wear shorts and sandals. It was the last of the many long weekends and probably the reason for that the camp being very well attended, but no noise, we were probably the noisiest bunch there, but only in the evenings and not for long, it was simply warmer in bed than sitting around the fire for too long. We were prepared for it though and the bottle of Captains did ease the pain somewhat, in fact quite a bit to be honest. Still can't believe that I left, no Marsha left the OB'S at home.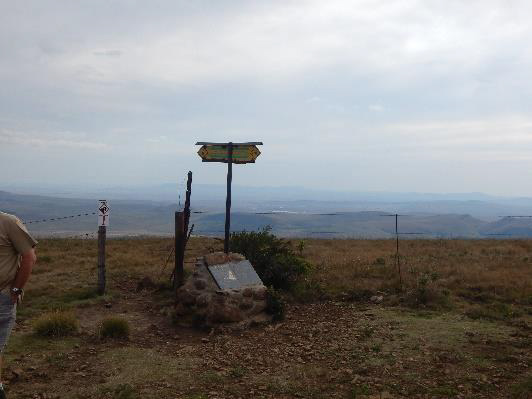 The reason for going to the Three Provinces is two- fold, the companionship with family and friends and of course the 4x4 trails. The venue has a number of trails that can be driven over the course of your say and depending on what you are looking for, you will find something to challenge your 4x4 and your navigator's ability to read and follow a map. We went a step better though, we had Nico and His wife Corrie from Gauteng with us who have been there before and who led us around the farm like it was his own back yard. Thanks Nico.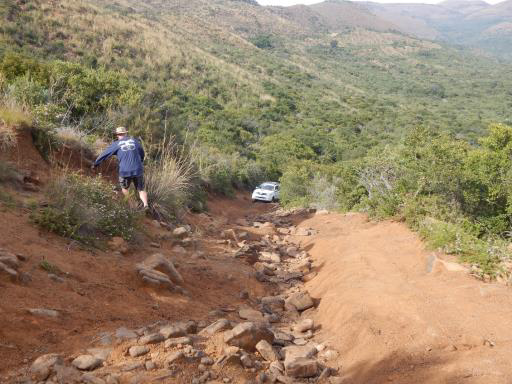 The first day's trail of 28kms took us from a leisurely 09h00 departure to a just before sunset and time to light the fire before dark return to camp. It was a long day but what a great days 4x4ing over some rugged terrain with awesome scenery thrown in. Danny's one running board now resembles a piece of waste Armco after being driven over by a truck whilst trying to escape the fires at the Mooi River toll. To be fair to Danny though, he did the entire day's route without his rear diff lock in operation. By no means Danny's choice simply one of those obstacles in life that are put there to test us. Yvette also learnt a very valuable lesson, don't try and out sprint a 4x4 in full flight by running up an obstacle in front of the 4x4, you won't beat it and somewhere gravity will take over.
Fortunately we were able to get the speeding 4x4 (not part of our group, I think they were from Boksburg) to stop before they left muddy tyre tracks on Yvette's nice red jacket that she was wearing. Richard Lester was quick to Yvette's assistance who thankfully had nothing more than a dented pride and Danny was quick to check out his camera, which thankfully too, was also still in one piece.
Then the mud hole came. It was probably Nico's fault, if he did not get stuck in it he would not have set up the challenge, for which most of us live for. It was a good day for recovery demos, first we winched out Nico, then myself and then we used the Snatch / Kinetic strap on Marks Jeep. Mark will no doubt be quick to say, but Joan was driving. True, she was driving but she had to first put up a good fight to drive the Jeep into that black clay mud hole. I'm pleased that you won Joan otherwise we could not have used Nico's brand new strap in that ugly black mud hole. Nearly two weeks later and I still have large amounts of rock hard clay under my vehicle.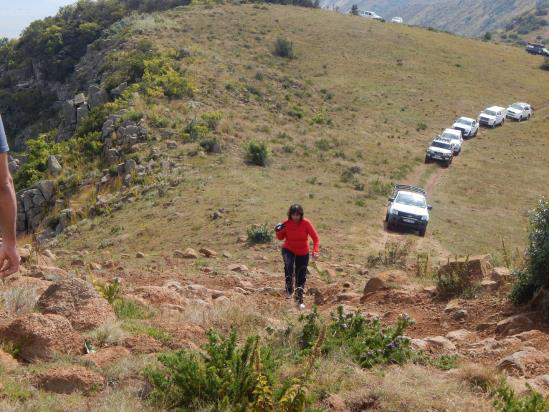 The following day after an even more leisurely start than the day before we set off on one of the shorter trails, again following Nico and now navigator Danny. Unfortunately the trail has not been used in a while and with all the rain in the area it was almost impossible to find the route. We still had a really good drive trying to find the track and had one stage had Danny set off on foot up a rather steep hill to see if there were any tracks on top. Danny soon experienced how thin the air is when 2000 meter higher than at home. After sitting on a rock waiting for his heart rate to slow down a bit and his lungs fill up with air once more. Nico thought he would make good use of the unexpected time laps and thought it a good idea to turn his vehicle around in the meanwhile.
After nearly overturning his vehicle on the slope his heart rate overtook Danny's and we now waited for Nico to return to some form of normality. After this we went to see if we could find the dam which we could see from the road but not find the road leading to the dam. We looked for the dam and then gave up. Now Nico had us looking through the veld for Sun Gazers (large Lizard like reptiles which come out their holes and bask in the direct sunlight) but after some time of deciding that the reason we could not find any may be due to the fact that it was over cast and cold, so we went back to camp and lit the fire again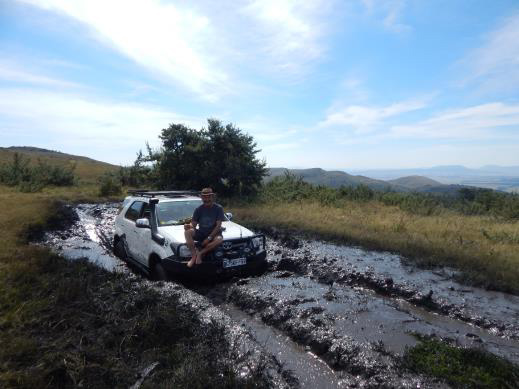 The next day, we never rushed it, we waited for Nico to pack up as he was on his way back to Gauteng and after wishing him and Corrie well and safe travels we headed off back into the hills looking for another trail. We did not find the exact route which we were looking for but we drove up a few really steep hills to the lookout point at the top. Fantastic views, only the hazy conditions limiting the distance somewhat. After that we drove virtually straight to the dam which none of us could find the day before, here we had lunch, Joan attempted to climb the large willow tree and once we were all done, set off back to camp. For Danny, who had not yet found his diff-lock, had elected to stay in camp for the day.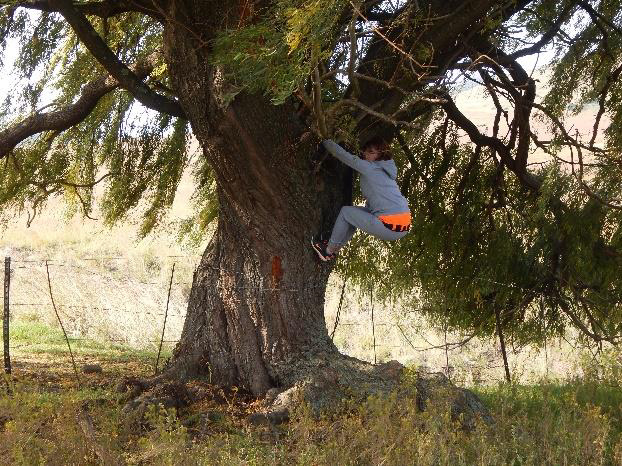 What a productive day it turned out to be. No one knows and Danny's not telling but it may well have had something to do with Yvette's influence that Danny decided to give his Serpa caravan a spring clean. It was productive because Danny now had a clean, tidy and orderly caravan and he found so many things that he had long forgotten that he owned and of which he was about to go out and buy.
That night it was a case of cooking on gas and early to bed, the heavens had opened their gates and it was now pouring down. Mark had a torrid time of it all. His rig was set up roughly 20 meters from the braai area where we were all exchanging one another's war stories before the rain came down. Between getting up and going back to his camp, 20 meters away Mark lost his only Jeep key. How long can it take you to search a twenty meter area in the dark, not really that long, and so what if it's raining. Anyway just before he exploded, Mark found his keys about an hour later in his Jeep, all nice and dry.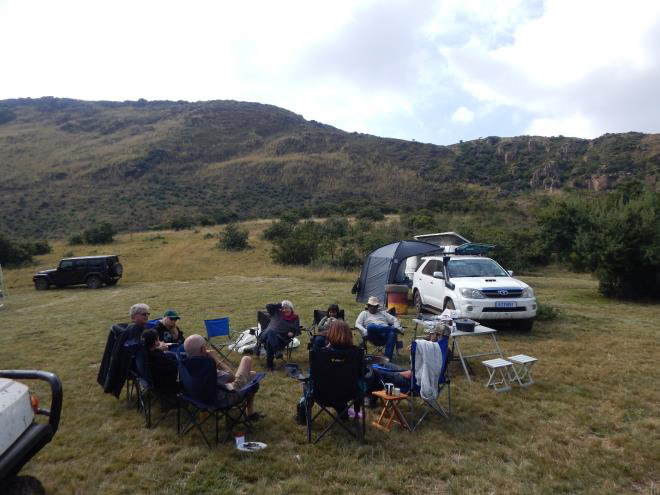 This was a really pleasant weekend, relaxing and a lot of fun. One night Nico made a big pot of vegetable curry, on another Danny made a big put of Mutton curry and one night I made a big pot of slap chips. For one lunch time we put the remainder of the two curries together which made for a rather tasty meal. Book early for next year when the dates come out.