News > Halfway's Accredited Driver Training. All Brands Welcome.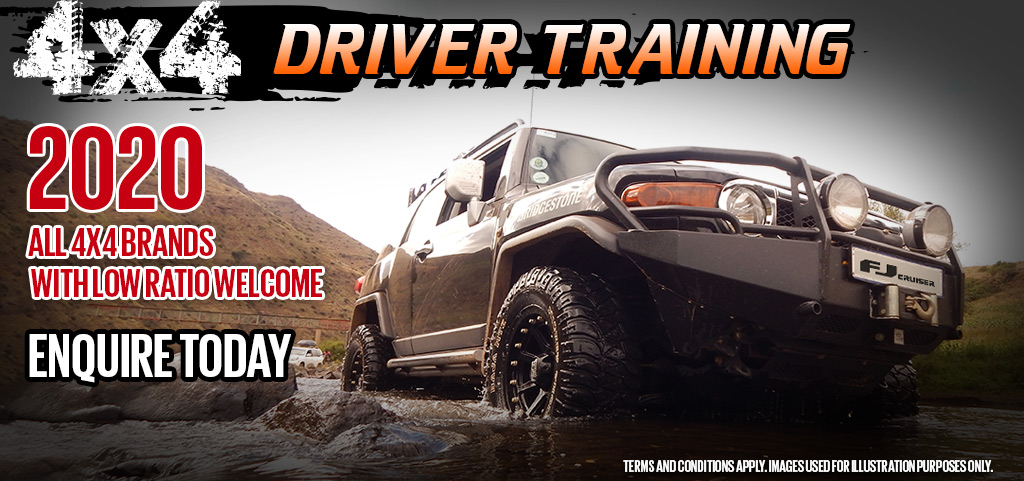 Unit Standard no's 254135 & 254154
Applying the techniques for operating a four wheel drive vehicle in on and off-road conditions.
The Halfway Group of Toyota dealerships, who specialise in the 4x4 marketplace, have identified the need for 4x4 training, be it the single day introductory courses or the more advanced two day Accredited courses. Learning to drive ones 4 wheel drive vehicle correctly ensures that one's off-road excursion should be a safe and happy one for all concerned.
Halfway's accredited driver training program is a 4x4 Driver Training Program that is run strictly according to SAQA's (South African Qualifications Authority) unit standard 254135. The unit standard and the accredited training program is a nationwide program controlled by TETA (Transport Education and Training Authority).
The Accredited Training is a two day course running from 08h30 to 16h30 each day. Day one covers a morning theory session which is then followed by an afternoon of practical driving and recovery. Day two is a quick recap of day one followed by driver Assessment covering day one. Driver assessment includes a written test, knowledge assignment and practical observation.
The course content includes theory, practical driving, puncture repairs, use of the Hi Lift and air jack, the snatch or kinetic strap and winching and recovery.
The unit standard has been put together by a group of 4x4 roll players throughout the country and thereafter into a 4x4 driver training course format set by SAQA.
There are a number of good reasons behind the accredited training program, the main one being for all 4x4 off-road drivers making a worthwhile contribution towards the preservation of our planet Earth. Erosion, damage to wetlands, damage to the fauna and flora, the carbon footprint are all major concerns when it comes to the greenhouse effects that are currently being experienced throughout the world.
So how does a 4x4 driver training course contribute to the wellbeing of our planet? By attending and completing the Unit Standard 254135 4x4 course. It will give the authorities the assurance, that you as a 4x4 driver are a competent driver who has the necessary skills and expertise to drive a vehicle in off-road conditions causing a minimum amount of unnecessary and harmful damage to the environment. The course does not teach the driver about the environment and the consequences that may occur as a result of poor driving skills, the course rather concentrates on honing those off-road driving skills by ensuring that you the driver have a thorough understanding of your vehicle and how it should be correctly operated in off-road conditions.
During the course of 2014, legislation was due to be passed which would require any driver who wishes to drive their vehicle on a recognised 4x4 trail will have to first produce proof of their driver accreditation to the authorities before being allowed on to the trail. All in all, this would have been a worthwhile program that should have been undertaken by any driver of a 4x4 wishing to venture out into the wilds of South Africa. Sadly 2014 has come and gone with no site of the new legislation being passed anytime in the near future or distant future.
As a responsible 4x4 driver, this however does not prevent one from participating in one of these courses, brushing up on one's knowledge and probably learning a bit more at the same time.
Halfway Toyota is now proud to say that we are currently the only dealership in SA that run their own Accredited 4x4 driver training courses and is a recognized training facility according to TETA.
Upon completion of the course, each driver will receive a certificate and card in recognition of their achievements.
For more information and course dates, contact:
Gauteng: Halfway Toyota 4 Ways. Ryan Otto 011 3178888 or offroad@halfway4ways.co.za
KZN: Halfway Toyota Park Rynie. Gerald O'Brien 039 9787500 or gerald@halfway.ws
Cell: 082 8746138 ph: 039 9787500 or Email: gerald@halfway.ws
2020 dates, Scottburgh:
| | |
| --- | --- |
| • | 27th & 28th February 2020 |
| • | 7th & 8th May 2020 |
| • | 16th & 17th July 2020 |
| • | 10th & 11th September 2020 |
| • | 3rd & 4th December 2020 |
2020 dates 4Ways:
| | |
| --- | --- |
| • | 19th & 20th March 2020 |
| • | 30th & 31st July 2020 |
| • | 26th & 27th November 2020 |
Agenda for 4x4 Driver Training days
Thursday:
| | |
| --- | --- |
| 08:00 | Meet at Halfway Toyota |
| 08:30 | Documentation |
| | Theory |
| | Written Test |
| 12:00 - 13:30 | Lunch |
| 13:30 - 14:00 | Travel in convoy to the Quarry |
| 14:00 - 16:00 | Practical Session |
Friday:
| | |
| --- | --- |
| 08:00 | Meet at Halfway |
| 08:30 | Recovery Theory |
| 10:00 | Travel in convoy to the Quarry |
| 11:00 | Practical Driving assessment |
| | Practical Recovery: |
| | - Winching Exercises |
| | - Uses of Snatch Block |
| | - Tow Rope Exercises |
| | - High Lift Jack Exercises |
| | - Air jack Exercises |
| | - Jack Buddy |
| | - Tyre Repair |
| 16:00 | End of training |
Cost: R1 500 / Person
Banking Details:
Standard Bank
Scottburgh Branch
Branch Code: 057627
Account Number: 052859584
Swift Code: SBZAZAJJ
Reference: Surname/ Acctrain