Toyota Hilux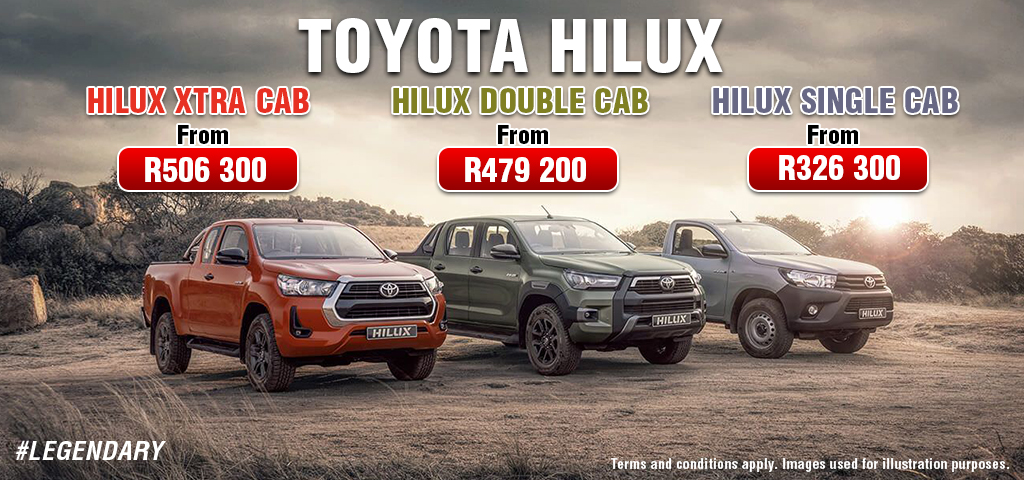 Listen to Radio ad below:
Listen to Radio ad below in Zulu:
IT IS HERE! THE TOYOTA HILUX IMV.
Exterior change:

The Toyota Hilux Raider grille creates a strong powerful look accentuating the powerful presence on the road.

You can expect to see Bi-LED headlamps with Daytime running lamps and LED turn signal lamps.

The Rear Design of the Toyota Hilux Raider 2.8 will see a new design on the rear lamps.
Interior:

The Speedometer is now fitted with a sleek high-grade meter.

The Thin floating panel exudes a modern feel, while the curved bottom combines the
new with the old by enhancing the feeling of the current model.
Selected Toyota Hilux Raider models now have an increased towing capacity of 300kg
(3200kg to 3500kg)

Expect more power and a sleeker design of the Toyota Hilux.

Contact us today to book your test drive and feel the difference.
Terms and Conditions apply. Images and Specifications are for illustration purposes only and may differ for each model. Strictly by appointment.