Toyota Agya TFS Offer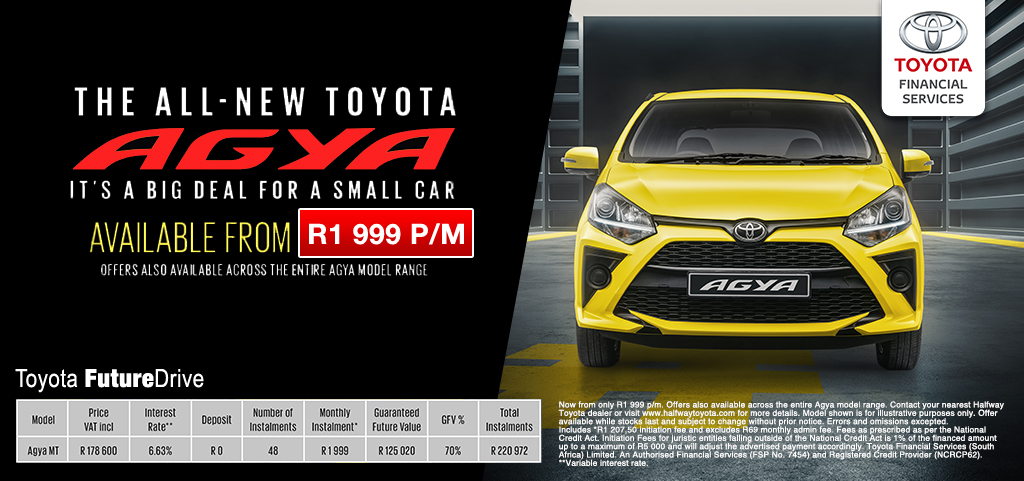 Enjoy a big lifestyle without compromise.
The stylish and futuristic Toyota Agya has all the value you need in a compact urban car. With its fierce exterior styling the Agya boasts impressive 14-inch alloy wheels while showing off its sleekness at the rear with a roof-mounted rear spoiler and LED-powered lights.
The Toyota Agya continues to impress with an aggressively sculpted front bumper that features a 3-dimensional design for an assertive, sporty look and a wide stance.
Contact us today to book your test drive and get a BIG deal on the Toyota Agya.
Now from only R1 999 p/m. Offers also available across the entire Agya model range. Contact Halfway Toyota Dealers or visit www.halfwaytoyota.com for more details. Model shown is for illustrative purposes only. Offer available while stocks last and subject to change without prior notice. Errors and omissions excepted. Includes *R1 207,50 initiation fee and excludes R69 monthly admin fee. Fees as prescribed as per the National Credit Act. Initiation Fees for juristic entities falling outside of the National Credit Act is 1% of the financed amount up to a maximum of R5 000 and will adjust the advertised payment accordingly. Toyota Financial Services (South Africa) Limited. An Authorised Financial Services (FSP No. 7454) and Registered Credit Provider (NCRCP62). **Variable interest rate.